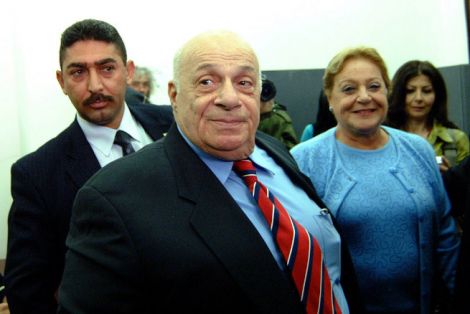 Ex Turkish Cypriot leader Rauf Denktash died last night at 22:00 in a hospital in the occupied areas where he was treated since the 8th of January in a critical condition after suffering a stroke.
Rauf Denktash was born in Paphos in 1924 and studied law in 1944 at Lincoln's Inn in London with British Council scholarship upon returning to Cyprus he joined the Attorney General office for the colonial government and during the liberation struggle of 1955-1959 he worked as a prosecutor against EOKA fighters leading to the conviction to many including the notable case of the Greek Cypriot hero Karaolis who was sentenced to death and was executed. He eventually resigned in 1957 and got involved into politics and in a year's time became a founding member of the terrorist organization TMT whose aim was to strike the unionist struggle of EOKA by commiting murders and attacks against progressive Turkish Cypriots who were in favor the peaceful coexistence of Greek and Turkish Cypriots.
By the time of the declaration of independence of Cyprus, Denktash declared himself as a member of political group of Turkish Cypriots who wanted the partition of Cyprus. Between 1960 and 1963 he was openly trying to destabilize the newly formed Cypriot state by encouraging Turkish Cypriots not to cooperate with Greek Cypriots. He had a leading role in the bloody Turkish Cypriot rebellion of 1963 which resulted into him fleeing to Ankara after being banned from Cyprus. He attempted to return to Cyprus illegally twice, and the second time was arrested by the rural police. The Cypriot government in a move of good will, released him. After he returned legally to Cyprus he was involved in the re-approachment talks 1968 as a representative of the Turkish Cypriots which were eventually interrupted by the Turkish invasion.
In 1973 he founded the party of National Unity and in 1975 he became the so called president of the "Turkish Cypriot Federal" state which in 1983 unilaterally declared as the so-called "Turkish Republic of Northern Cyprus". He was "elected" as president of the puppet regime in 1985, 1990, 1995 and 2000 and resigned in 2005.
During his 'presidency' he talked to all Greek Cypriot presidents but he kept a hard line against reunification of the island demanding the creation of two states which kept the Cyprus problem in its current form.